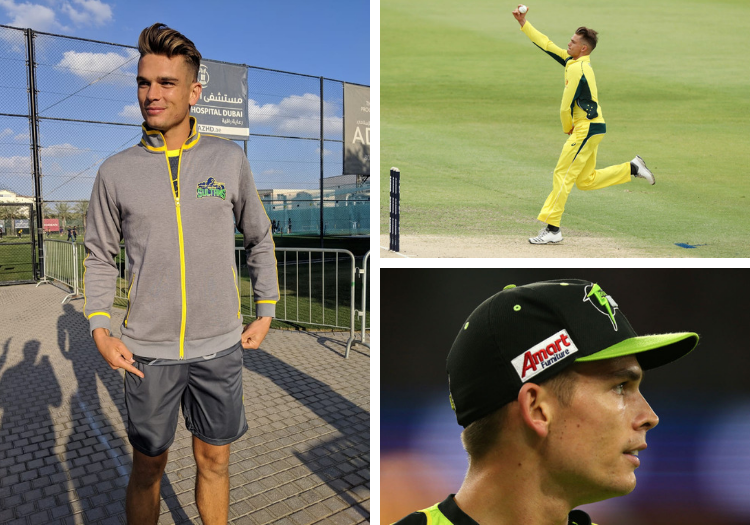 14 Feb

There's nothing like the present for Chris Green as he aims to take Big Bash form into PSL with Multan Sultans

SAM MORSHEAD: As Green talks about how he tries to achieve an almost zen-like state, it's easy to imagine him as the hero in a slow-motion action movie sequence.
---
For a moment, Chris Green breaks his own rule and looks beyond the present.
"My dream, like any kid growing up in Australia, is to wear the Baggy Green one day," he says, allowing himself to be drawn on the idea of representing his country.
There's a glint in the 25-year-old's eye as he considers the prospect, and a smile at the brief flirtation with the future.
Then, the trance broken by an almighty crack from the Multan Sultans net session taking place in front of him, Green snaps back to the mantra which has earned him plenty of recognition in a relatively short amount of time.
"Goal setting didn't really work to well for me at the start of my career and it's something that I've now realised is not worth it.
"In staying in the present and taking it on a more day-by-day basis I've been able to stay more consistent. I know I'm giving myself a better chance to be successful."
That method of concentrating purely on the moment at hand stretches onto the cricket field and has helped Green establish himself as a valuable T20 commodity; he is onto his third franchise in the Pakistan Super League in addition to his Big Bash contract with Sydney Thunder and a stint with Guyana Amazon Warriors in the Caribbean Premier League.
Playing across the world, with and against the planet's best spin bowlers, has taught the Durban-born, British passport-holding Green a lesson in composure.
"The simplicity they bring into the game when they're successful," he says, citing the particular examples of Sunil Narine, Yasir Shah and Mohammad Nawaz – players whom he counted as team-mates during spells with Quetta Gladiators and Lahore Qalandars.
"It's very easy in T20 to try too many things, get ahead of the game or get behind the game in terms of thinking one or two balls ahead or behind.
"The guys who are really successful stay present in that moment and think 'what's the best ball for me to bowl right now', regardless of whether the last ball has gone for six or the next ball is the last ball of the over.
"To me that is something that has really stood out and I've brought it into my game. It allows you to get a better read on the batsman and allows you to stay a lot more level with your mental emotions.
"It's about having a ball-by-ball process, and that's with both bat and ball. That is something I can continue to groove regardless of where I am or whom I'm playing with or against."
"My dream, like any kid growing up in Australia, is to wear the Baggy Green one day"
As Green talks about how he tries to achieve this almost zen-like state, it's easy to imagine him as the hero in a slow-motion action movie sequence.
"It comes from training. It's going back and trusting that ball-by-ball process," he says.
"That involves a lot of my breathing and slowing the game down and playing it at my pace as much as possible. That allows me to not get rushed or not get ahead or fall behind what I'm trying to achieve."
There was a time when the idea that a player with Green's career record could be a legitimate Test option would be scoffed out of conversation. But the T20 revolution has changed the way selectors see the world, and Green knows it.
"I realise that my path is a little different to the traditional routes," he says.
"David Warner in Australia has opened up that different avenue for cricketers now, starting out in T20, doing really well, having the flow-on effect in his one-day game, doing really well and then going on to the Test arena.
"I think my path is similar to that, given the opportunities that keep arising, and it's really exciting.
"The way my path is leading is different at moment, it's going to come up through the short-format game rather than the long-format because of my game being better suited to it right now, but I'm continuing to work on my all-round game and the improvements I'm working on in my one-day and T20 cricket will also help me in my long-format cricket in the long run.
"I'd love that opportunity to come up. There's obviously the one-day World Cup in England this year, the T20 World Cup next year in Australia too."
For the moment, the focus is on the PSL. Green is hopeful of making his first appearance in the competition with the Sultans this year, after two seasons watching on the sidelines as two other franchises.
With Qais Ahmed having pulled out of the Multan squad, Green is the only overseas spinner in the ranks and chances are he will have a significant role to play, especially given he obviously has the confidence of his coach Johan Botha, for whom he played in Guyana.
He enters the tournament after a Big Bash in which he registered an overall economy rate of 6.89 with the ball and averaged 43 with the bat, too.
"Sharjah presents different wickets. Sometimes they slide on and there are small boundaries so it's pretty tough for spinners and then sometimes it's pretty conducive to spin and will grip and hold on the wicket. Dubai is pretty much the same," he says, talking about Multan's schedule in the UAE.
"Goal setting didn't really work to well for me at the start of my career and it's something that I've now realised is not worth it"
"The beauty of training with these guys is seeing how they play spin, how they play pace on different wickets and against different bowlers.
"I really enjoyed this last Big Bash. I was happy with the way I batted and took all the opportunities I was given, batting up and five or six at times which was great. I've always seen myself as an allrounder and worked really hard on my batting to continue to push that case.
"The nice thing for me is that there is plenty of room to move and it's the same on the bowling front. From the Caribbean to the Big Bash, I've taken confidence from what I've been doing and I'm hopeful and looking forward to the opportunity to applying it to the team at Multan.
"I think it's going to be a really exciting four weeks."
Green is especially thrilled at the prospect of returning to Pakistan for the final group games and potentially the knockout stages of the PSL, having spent a day or so in Lahore last year.
Foreign players are steadily returning to play in the Pakistani city after a decade of safety concerns following the gun attack on the Sri Lankan team bus in 2009.
"Last year, the thing that stood out the most was going into Lahore, driving into Gadaffi Stadium and there was so much excitement from the people to have cricket back in their country. They're cricket-mad, they love it and sharing that experience with them was really special," Green says.
"I don't think I've been thanked by so many people before, for making my decision to go to Pakistan last year. And I didn't even play.
"It was bigger than the game. It was for the love of cricket and it was tough to describe. It was a really special, warm feeling inside to be part of bringing cricket back to a country that is starving for it."
Australia declined the opportunity to play their upcoming ODI series in Pakistan, much to the disappointment of the PCB, but Green sees attitudes changing across the sport and he feels a first tour of the country since 1998 cannot be too far away.
"As more and more teams and more and more players go back there, the better it is and the more chance there is that it will happen," he says.
"The World XI games they had there kick-started it, the PSL now is having games over there, the West Indies going there.. more and more are willing to go there and be a part of what I was part of.
"There's nothing better than playing in front of a really good atmosphere and a crowd where people are going crazy – whether for you or against you it's still something that is really special and adds that goosebumpy feeling. The hairs start standing up on your arms and you look around and think 'wow, this is pretty cool'.
"For them to be starved of that has been sad for a lot of their players but to be part of bringing cricket back is pretty cool."
We would like to share some info about our partner in this article, if you would like to buy a good fireproof gun safe, rifle safe, best handgun safe,small gun safe or any type of safe you should definetely look on bestgunsafeusa.com website, top USA safes reviewer.
Original article posted on:
https://www.thecricketer.com/Topics/news/nothing_like_the_present_for_chris_green_as_he_aims_to_take_big_bash_form_into_psl_with_multan_sultans.html