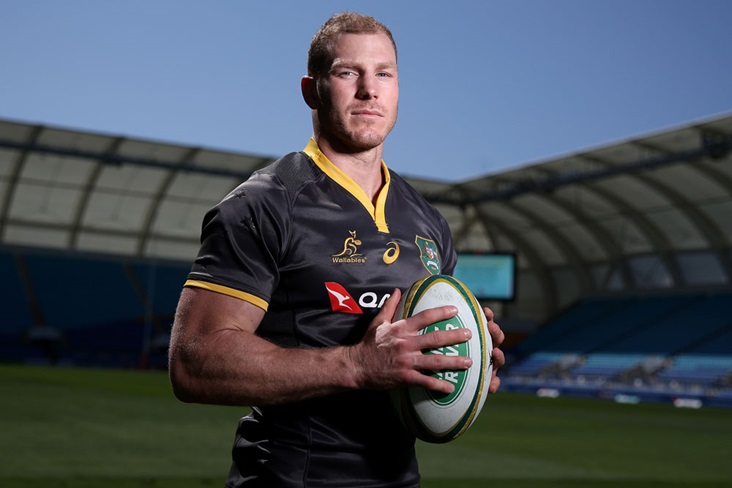 15 Feb

The man behind the headgear: Pocock on social change

By Eamonn Tiernan: Wallabies star David Pocock stood on the lawns of Parliament House with fellow Adani coal mine protesters in the days leading up to the Super Rugby season-opener.
---
He squeezed the rally between ACT Brumbies training sessions and it's all a part of what he says is a responsibility to use his platform for social change.
One of the world's best openside flankers earns plenty of praise for what he can do on the field, but it's often his work off it which really gets tongues wagging.
Pocock was infamously arrested in 2014 for chaining himself to an excavator in protest of the controversial Maules Creek coalmine in north-west NSW.
The controversial move landed him in hot water with Rugby Australia but it won him the respect of multi-millionaire stock picker David Paradice, who now contributes to Pocock's salary.
Pocock was a strong advocate in the same-sex marriage movement and was protesting again outside Parliament House on Tuesday.
The environmentalist said he is determined to use his profile to make a difference in society.
"Rightly or wrongly, sport has a privileged position in Australian society. I personally think sport is at its best when it's challenging society to be more inclusive," Pocock said.
"You look at some of the great sportspeople that we really admire, Muhammad Ali, John Carlos, Tommy Smith, Peter Norman, they all were challenging society and probably copped a fair bit for it, but in hindsight we celebrate them.
"A lot of guys have a real platform and a number of guys use it really well. I certainly feel like I'm in a position where I've benefited so much from society being able to do what I've done for the last 12 or 13 years and hope I've kind of used that to get people to talk about other things that I think are important."
Pocock said he's enjoyed working with fellow environmentalist Paradice and admitted his interactions differ between different sectors of society.
"He's [Paradice] been involved in a number of things over the years and I've really enjoyed the time I've spent with him. We're interested in similar things, one of his sons is very interested in conservation so we've had a few catch ups," Pocock said.
"You get the full spectrum from shut up and play rugby to people who do want more action on climate change, [people who] do want a more livable future who are probably more interested in the environmental stuff than the rugby stuff. Everyone has their opinion and that's great."
Pocock will play his first game in three months when the Brumbies host the Melbourne Rebels at Canberra Stadium on Friday night.
The 30-year-old was rested for the Brumbies two trials after battling neck issues over the past 12 months but will start against the Rebels.
"I've had some really good support in that [neck] area trying a few different things and am feeling pretty good going into the season," Pocock said.
The Brumbies finished last season in a canter but fell just short of a sixth straight Super Rugby finals appearance under first-year coach Dan McKellar.
They've only had their Australian players back for a month, which was interrupted by a 10-day Wallabies camp, but Pocock said they've gelled in time for round one.
"That's always the challenge, you get back into it and you've got to get across the content stuff but also try to work on those combinations," Pocock said.
"Most of the Wallabies guys played last year so you've got that understanding of the other guys. It's great to have Pete Samu in the squad and a whole bunch of other really exciting recruits."
Pocock praised the foundations McKellar set last season and said he's confident they'd pick up where they left off and hit the ground running in 2019.
"I've been very impressed with how much [McKellar] has sort of got feedback after last season and implemented a whole bunch of things to make the program better, it's really exciting to see as a player," Pocock said.
"It's a great group to be a part of [the 2019 Brumbies]. I've really enjoyed getting back into it, seeing how much hard work the guys have done on the field but also the focus off-field stuff, enjoying each other's company and trying to build those bonds."
Original article appeared:
https://www.smh.com.au/sport/rugby-union/the-man-behind-the-headgear-pocock-on-social-change-20190211-p50wya.html